Breeding for health, sweet temperament and beauty
By SMC150 0 comments (leave a comment)
We have several Blenheim puppies and two Tri puppies available. Check at the "Puppies" button on the menu bar for a drop down list of puppy webpages.
By SMC150 0 comments (leave a comment)
I got my first Cochran cavalier in 1987, Belle, (Blenheim female). Four months later I got her cousin, Boo, (Tricolor female). In 2007 I got Lily and Lucy, (Tricolor female litter mates). I thought I would always get females. At one point none were available. I am now hooked on the males! In September, we are picking up (chocolate/tan) male litter mates.
I have loved every one of these pups and they have all been part of our family! To me, they are the best breed. I will always have at least two Cochran Cavs.
Thank you Susan and William.
By SMC150 0 comments (leave a comment)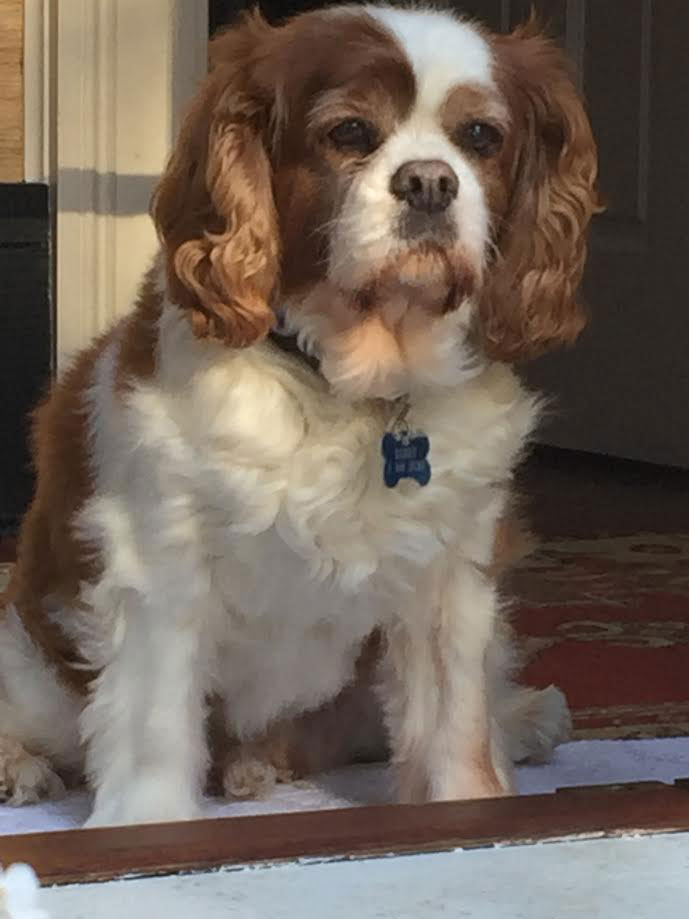 Buddy turned 15 yesterday on September 10, born the day before 9/11. He comes to work with me every day as a therapy dog and brings joy to many people.
He is the oldest cav in the local vet practice by two years!
Barbara and John Boatwright
By SMC150 0 comments (leave a comment)

Here is an update on the girls! Molly is about to turn 14 on the 21st of July. She has been the Queen from day one! Pixy Stix is adorable, so sweet natured! She is now 6 and a half. Brinkley is very playful! I think she would have been a great stunt dog as she jumps almost 4 feet high. She'd probably be considered the 'wild child'. She is 4 months from being 4 years.
They bring so much joy to us! I love them all!! I've attached a picture of the three of them taken June 29th this year to celebrate Independence Day.
Thank you for sharing your babies with us!
Stacey York
By SMC150 0 comments (leave a comment)
Hello Susan,
We thought you would get a kick out seeing our Charley (Cochran's Ghiardelli) on her first bike ride. She doesn't look too thrilled in the picture, but today when we took her on a ride, she was more relaxed. We went around the block the first time and today, we went a little further. She is harnessed in 2 places. Nifty gadget.
Joanne and Norman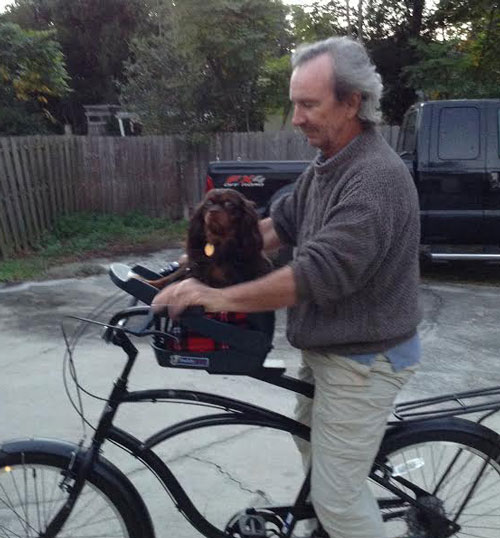 By SMC150 0 comments (leave a comment)
Hi there Susan,
I wanted to let you know how well Penny is doing and send you a picture. She is such a sweet and funny girl and brings us so much joy every day! She's a fearless little adventurer and travels with us everywhere – on camping trips, hikes, and her favorite place, the beach. Here she is on a recent canoe trip.
She is the best little friend and companion and we cannot wait to get her a friend of her own when we have more space 🙂 Thank you and I hope you had a very Merry Christmas!
Henry and Katie Tucker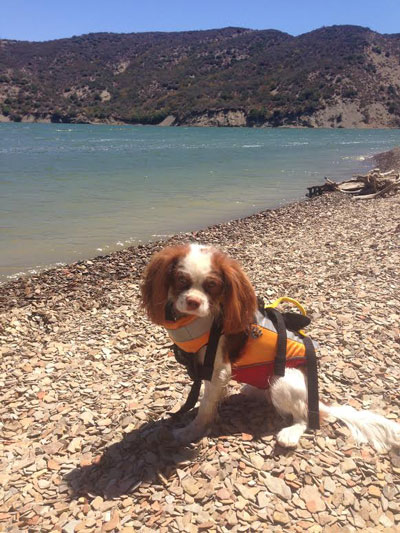 By SMC150 0 comments (leave a comment)
Our grandson thoroughly enjoyed Sharna (8 week old tri girl) during his visit with us at Thanksgiving. Here they are napping together in Granddad's chair.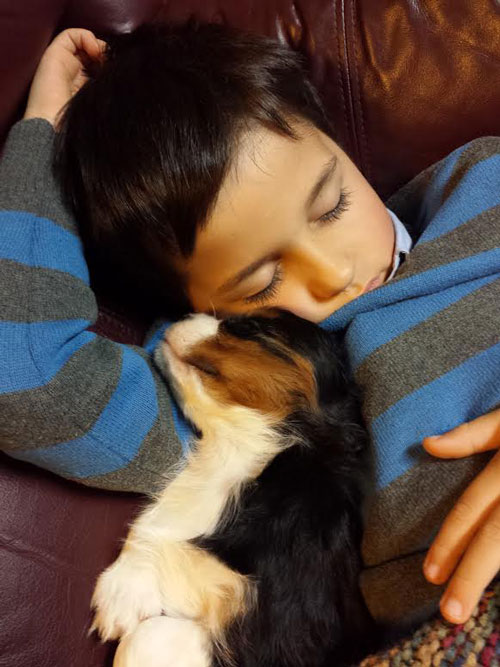 By SMC150 0 comments (leave a comment)
Hey Susan & William-
I just wanted to touch base and tell you that we are so in love with our new little guy. His name is Woodford by the way! 🙂 He slept all night last night (no whining) and is yet to have an accident in the house. He has been chasing the kids in the backyard today nonstop … I think he will sleep good again tonight. 🙂 ha! Our cat watches from afar but doesn't seem to mind him. The only problem we have is we all want to hold him & play with him at the same time!
Just out of curiosity, when will your new litter be born & what colors do you think you will you have? A couple friends have inquired & I told them I'd get the info.
Thank you so much …. What a joy he will be to our family!
Stephanie Armstrong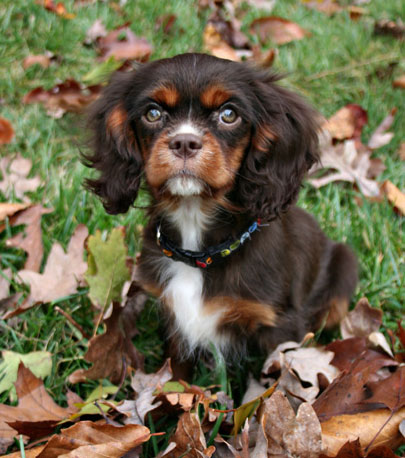 By SMC150 0 comments (leave a comment)
Susan,
I wanted to let you know how well we are all doing with our first week with our new lady.
We decided that given the dark color around her eyes and her arrival around
Halloween, that we would name her, "BOO"!
The first night we put her in a large crate with bedding, toys, and lots of kisses. She
still cried. Zeke usually sleeps with us. Well, he jumped up and off the bed, ran
downstairs, and sat by her crate. So, I put him in with her, they curled up together, and
slept all night. Wow! I did not expect a male [dog] to be so nurturing. He has been playing
with her, grabbing and sharing toys, and generally seems happy to have a buddy.
I had to go out of town for a meeting on Wed., but Bob tells me she is doing great with
peeing and pooping outside. I am not very skilled at picture taking but wanted to grab the opportunity
when Chance got into the crate with her as we were trying to get the two dogs to eat. I think he fed her one piece at a time.
She is an endearing little girl and she has won all of our hearts. Thank you for the info
in the crate and the smooth travel and transfer to us.
Rosemary