Breeding for health, sweet temperament and beauty
By SMC150 0 comments (leave a comment)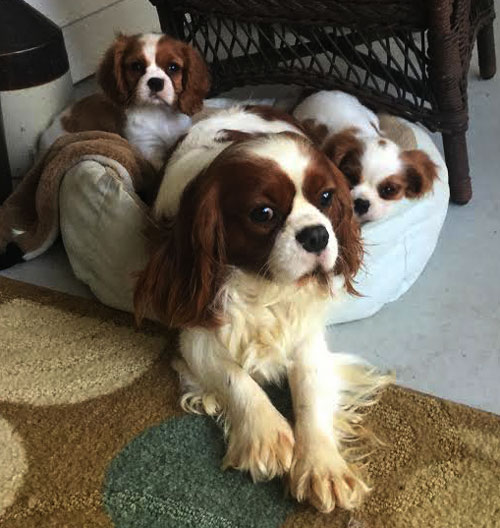 Cochran's Prince Henry of Wales and two of his sons that were born December 20, 2016.
Henry loves puppies and had a great time playing with his boys before they all took a rest in the dogbed. Photo was taken the day that the puppies owner came to pick the boys up.
By SMC150 0 comments (leave a comment)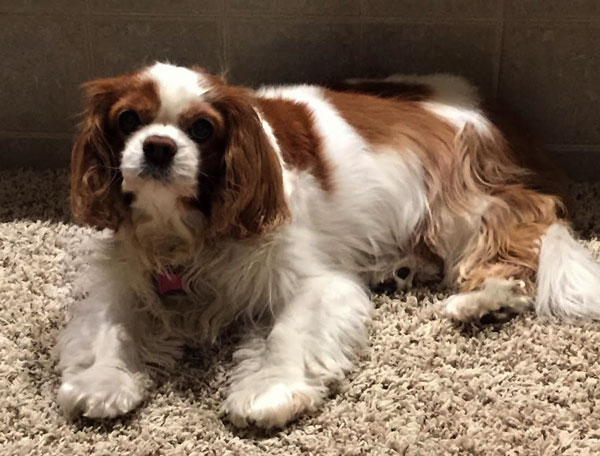 Hello, Susan!
I just wanted to send you a note and let you know that our beautiful Jasmine is celebrating her 15th Birthday today!! She is so loved by everyone in our family and we feel so blessed to have her in our lives. She is showing her age as her hips slow her down a bit, but her heart is good and she is happy. Thank you for your diligence and care in breeding your dogs. We are so happy to be celebrating 15 years of love and life with Jasmine today!
Warmly,
Ginger & Allen, Alexa Anna & Allison
from Michigan
By SMC150 0 comments (leave a comment)
We have two Tri puppies available. Check at the "Puppies" button on the menu bar for a drop down list of puppy webpages.
By SMC150 0 comments (leave a comment)
I got my first Cochran cavalier in 1987, Belle, (Blenheim female). Four months later I got her cousin, Boo, (Tricolor female). In 2007 I got Lily and Lucy, (Tricolor female litter mates). I thought I would always get females. At one point none were available. I am now hooked on the males! In September, we are picking up (chocolate/tan) male litter mates.
I have loved every one of these pups and they have all been part of our family! To me, they are the best breed. I will always have at least two Cochran Cavs.
Thank you Susan and William.
By SMC150 0 comments (leave a comment)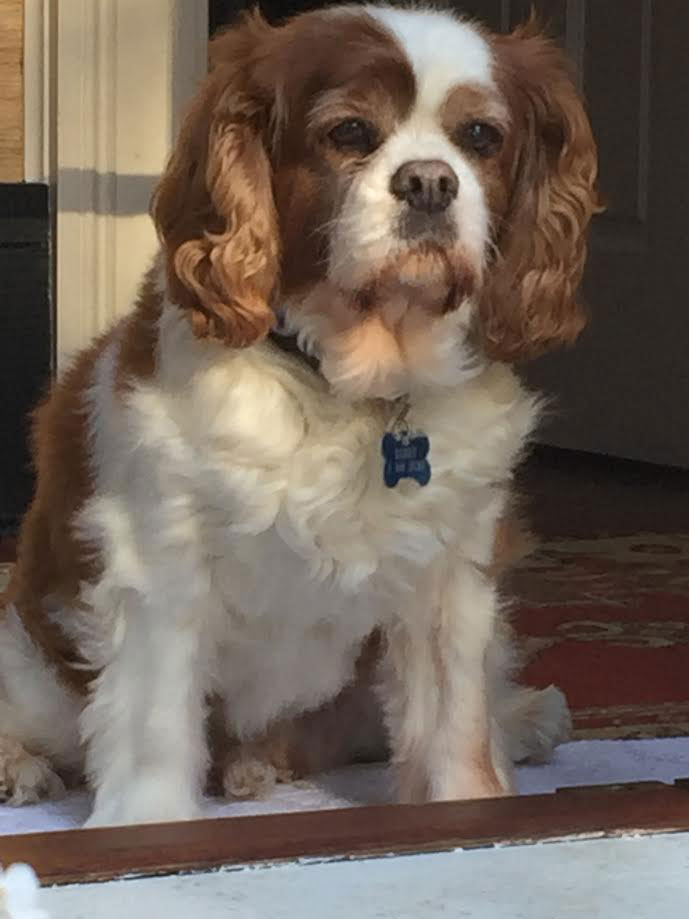 Buddy turned 15 yesterday on September 10, born the day before 9/11. He comes to work with me every day as a therapy dog and brings joy to many people.
He is the oldest cav in the local vet practice by two years!
Barbara and John Boatwright
By SMC150 0 comments (leave a comment)

Here is an update on the girls! Molly is about to turn 14 on the 21st of July. She has been the Queen from day one! Pixy Stix is adorable, so sweet natured! She is now 6 and a half. Brinkley is very playful! I think she would have been a great stunt dog as she jumps almost 4 feet high. She'd probably be considered the 'wild child'. She is 4 months from being 4 years.
They bring so much joy to us! I love them all!! I've attached a picture of the three of them taken June 29th this year to celebrate Independence Day.
Thank you for sharing your babies with us!
Stacey York
By SMC150 0 comments (leave a comment)
Hello Susan,
We thought you would get a kick out seeing our Charley (Cochran's Ghiardelli) on her first bike ride. She doesn't look too thrilled in the picture, but today when we took her on a ride, she was more relaxed. We went around the block the first time and today, we went a little further. She is harnessed in 2 places. Nifty gadget.
Joanne and Norman