Breeding for health, sweet temperament and beauty
By SMC150 0 comments (leave a comment)
Hey Susan & William-
I just wanted to touch base and tell you that we are so in love with our new little guy. His name is Woodford by the way!
He slept all night last night (no whining) and is yet to have an accident in the house. He has been chasing the kids in the backyard today nonstop … I think he will sleep good again tonight.
ha! Our cat watches from afar but doesn't seem to mind him. The only problem we have is we all want to hold him & play with him at the same time!
Just out of curiosity, when will your new litter be born & what colors do you think you will you have? A couple friends have inquired & I told them I'd get the info.
Thank you so much …. What a joy he will be to our family!
Stephanie Armstrong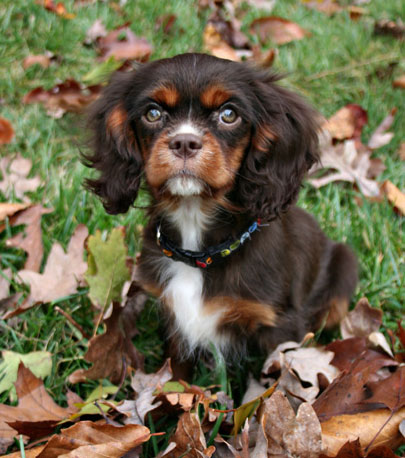 By SMC150 0 comments (leave a comment)
Susan,
I wanted to let you know how well we are all doing with our first week with our new lady.
We decided that given the dark color around her eyes and her arrival around
Halloween, that we would name her, "BOO"!
The first night we put her in a large crate with bedding, toys, and lots of kisses. She
still cried. Zeke usually sleeps with us. Well, he jumped up and off the bed, ran
downstairs, and sat by her crate. So, I put him in with her, they curled up together, and
slept all night. Wow! I did not expect a male [dog] to be so nurturing. He has been playing
with her, grabbing and sharing toys, and generally seems happy to have a buddy.
I had to go out of town for a meeting on Wed., but Bob tells me she is doing great with
peeing and pooping outside. I am not very skilled at picture taking but wanted to grab the opportunity
when Chance got into the crate with her as we were trying to get the two dogs to eat. I think he fed her one piece at a time.
She is an endearing little girl and she has won all of our hearts. Thank you for the info
in the crate and the smooth travel and transfer to us.
Rosemary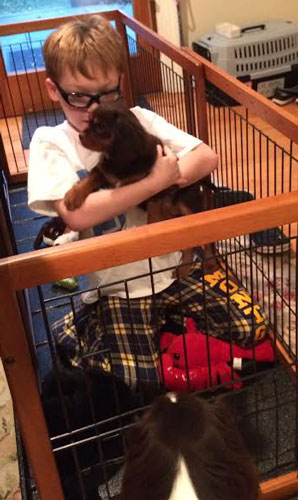 By SMC150 2 comments (leave a comment)
Hi Susan and William,
We just want to report that Callie is doing super! She just turned twelve this past week. She also had her routine visit to the cardiologist on Friday who remarked she has NEVER seen a cavalier with a heart in as good condition as Callie's. Any deterioration has only been due to her age. She called Callie a "rock star". Our vet continues to be impressed with Callie's health as well.
Take care,
Laura, Brian, Callie, and Trinket