Breeding for health, sweet temperament and beauty
By SMC150 0 comments (leave a comment)
Tucker, a 9 month old Tri male, is available. He is a sweet boy, very friendly and playful. Will make an excellent pet.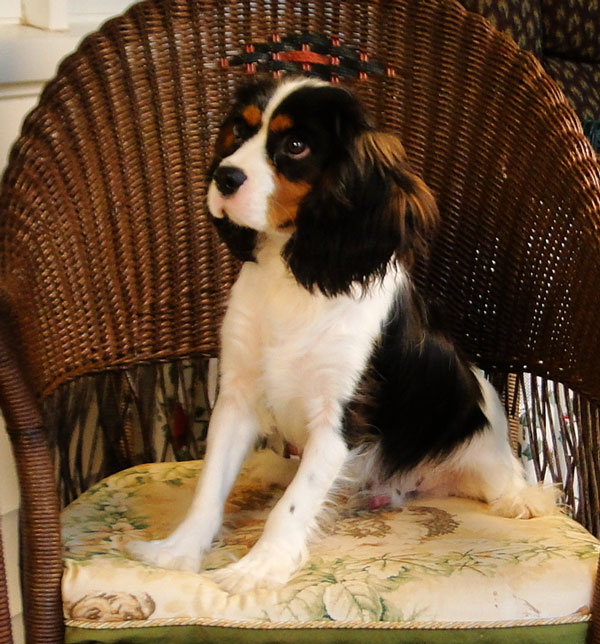 By SMC150 0 comments (leave a comment)
We have some new puppies due the end of September and in early October! I'll upload photos and videos as soon as they arrive!
By SMC150 0 comments (leave a comment)
We have 2 Blenheim Boys available; Boy 'A' and Boy 'B'. They will be ready to go on September 9th. Call or email for information: cochrancav@gmail.com or 864-859-6945
The Blenheim Girl and Blenheim Boy 'C' are sold.
By SMC150 0 comments (leave a comment)
Two Ruby boys are SOLD. Boy 'C' is the one with the white stripe on the back of his neck. Boy 'A' is the little rascal who wouldn't stay on the chair for his close up posing. Wm. finally managed to get him to pose at the end of the video. I wish that I could have put all of the clips in the video as it was hilarious to watch Wm.'s attempts to get Boy 'A' to stay on the chair. We laughed more over this little scamp. He is a real charmer, more interested in coming up to me for a petting than staying in the video.  These boys are 12 weeks old, health certificates and vaccinations done. They will make great pets for homes with children or for adults who want a puppy that makes you laugh at their antics. The boy Cavaliers are just as good a pet as the girls if they are neutered at 6 months of age.