Breeding for health, sweet temperament and beauty
By SMC150 0 comments (leave a comment)
Two Ruby boys are SOLD. Boy 'C' is the one with the white stripe on the back of his neck. Boy 'A' is the little rascal who wouldn't stay on the chair for his close up posing. Wm. finally managed to get him to pose at the end of the video. I wish that I could have put all of the clips in the video as it was hilarious to watch Wm.'s attempts to get Boy 'A' to stay on the chair. We laughed more over this little scamp. He is a real charmer, more interested in coming up to me for a petting than staying in the video.  These boys are 12 weeks old, health certificates and vaccinations done. They will make great pets for homes with children or for adults who want a puppy that makes you laugh at their antics. The boy Cavaliers are just as good a pet as the girls if they are neutered at 6 months of age.
By SMC150 0 comments (leave a comment)
We have a new litter of 8 puppies born February 11th. At this time, we are only offering the Ruby and Black & Tan Boys.
By SMC150 0 comments (leave a comment)
Hello Susan,
We thought you would get a kick out seeing our Charley (Cochran's Ghiardelli) on her first bike ride. She doesn't look too thrilled in the picture, but today when we took her on a ride, she was more relaxed. We went around the block the first time and today, we went a little further. She is harnessed in 2 places. Nifty gadget.
Joanne and Norman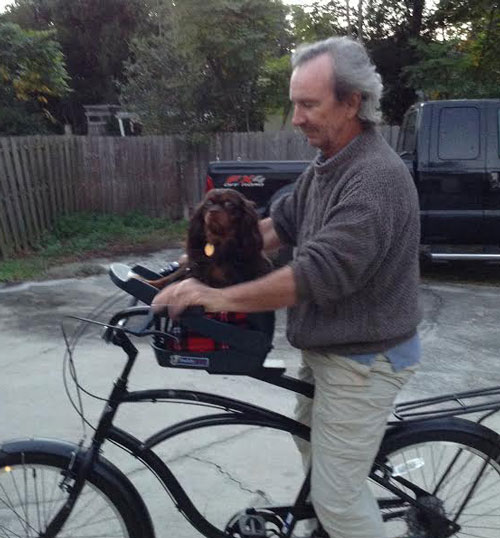 By SMC150 0 comments (leave a comment)
Hi there Susan,
I wanted to let you know how well Penny is doing and send you a picture. She is such a sweet and funny girl and brings us so much joy every day! She's a fearless little adventurer and travels with us everywhere – on camping trips, hikes, and her favorite place, the beach. Here she is on a recent canoe trip.
She is the best little friend and companion and we cannot wait to get her a friend of her own when we have more space

Thank you and I hope you had a very Merry Christmas!
Henry and Katie Tucker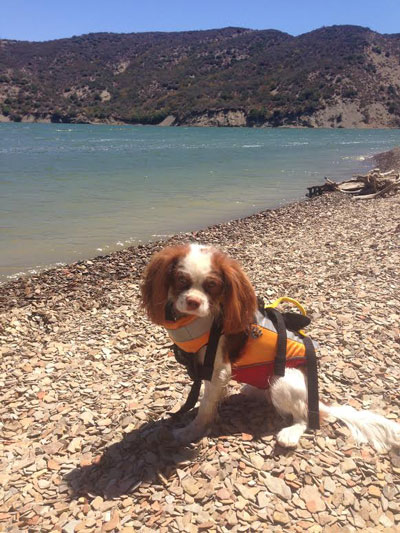 By SMC150 0 comments (leave a comment)
Our grandson thoroughly enjoyed Sharna (8 week old tri girl) during his visit with us at Thanksgiving. Here they are napping together in Granddad's chair.